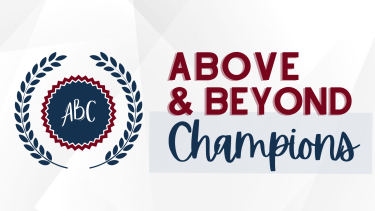 ABC Recognition Program
Above & Beyond Champions
Program Overview
The Abbotsford School District is committed to providing a workplace that fosters creativity, inspires excellence, and challenges everyone to embrace growth. The ABC (Above and Beyond Champions) Recognition Program was established to promote an engaged and motivated organizational culture that encourages and recognizes employees who demonstrate dedication and innovation in support of our strategic goals and organizational values: Respect, Trust, Integrity, Community, Teamwork. 
Process
Nominations for the ABC Recognition Awards can be submitted by peers or leaders across the district through an online form, from June 1 - June 30 of each year. The nominations will outline a detailed story of an employee or a team who has gone above and beyond, in the current school year, in one of the following four categories:  
Continuous Improvement/Innovation - recognizing progress in areas such as equity and inclusion, stakeholder engagement and support, health and safety, and fiscal and environmental stewardship, including improvements to systems, processes, and procedures. 
Supporting Student Success – recognizing actions and initiatives that enhance the student experience and help a student or group of students achieve their goals, e.g. social/emotional learning, student agency and voice.
Leadership Excellence - recognizing demonstrations of formal and informal leadership that enhance collaboration, build capacity, influence change, and contribute to a respectful and healthy environment. 
Team Achievement - recognizing high-performing teams that model respect, inclusion, leverage diversity, and collaborate to improve student/employee experience and outcomes.   
Committee
An ABC Recognition Committee will be established to review all nomination submissions on an annual basis and recommend award recipients to the senior leadership team. This committee will include unionized (Teachers and Support staff) and excluded employees, consisting of six to eight members representing different portfolios/departments in the school district (e.g., Elementary, Middle, Secondary, Operations, Learning Support Services, Curriculum, Indigenous Department) The committee members will be nominated and identified through the Senior Leadership Team.   
The ABC Recognition Committee will determine who will be presented with an 'Above and Beyond Champion' (ABC) recognition award by using the following criteria:
Reviewing the submission with the school or department leader to gain a full understanding of how the nominee(s) have gone above and beyond in their position(s);
Reviewing the nominee's efforts and resources used;
Reviewing the impact of the improvement(s);
Reviewing the practical use of the improvement. 
The nominees who are selected by the ABC Recognition Committee will be acknowledged at the long term service celebration which occurs in March of each year.  Employees who do not want to be recognized in this public forum may choose to receive their award and acknowledgement from their leader at their work site. 
Award
The Above and Beyond Champions will receive a certificate of recognition and a $100.00 gift certificate for their outstanding achievement.
To nominate a leader or co-worker, please complete the Nomination Form between June 1 -  June 30th of each year.
Questions?